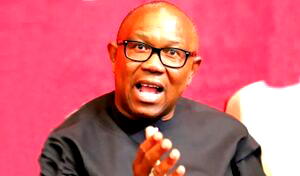 By Shina Abubakar, Osogbo
The presidential candidate of Labour Party, LP, Mr. Peter Obi, has urged his supporters to work with them in destroying killer-structures over which the ruling party, All Progressives Congress, APC, and its predecessor, Peoples Democratic Party, PDP, brag.
He also stressed the need for Nigerians to take back the country from sick, old and tired politicians with a sense of entitlement by voting for him and his running mate, Baba Datti-Ahmed in the February 2023 presidential election.
He made the appeal at the presidential rally held at Freedom Park, Osogbo, yesterday.
Read Also: Peter Obi heartless for saving money instead of people – Tinubu
Obi said the parties that brag of structures can only point to killings, insecurity, intermittent strikes by university lecturers as major achievements.
He said: "Nigerians are hungry, youths have no job, it is not safe to travel anywhere in Nigeria today.
"All these challenges are caused by…


Source: Vanguard Newspaper